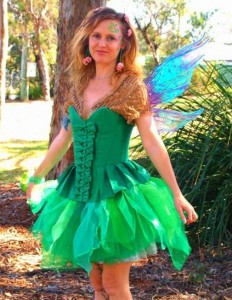 Want a super fun children's party? Make your party magical with beautifully costumed face painter and balloon twister.  Meet Lara from Extremely Face Painting!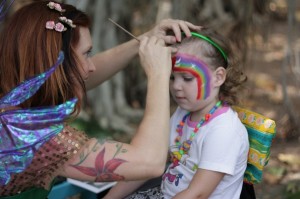 Forest fairy "Lady Lara" looks like a real-life fairy: children will be captivated.  A fairy face painter is perfect for a fairy party, frozen party,  or any party at all.  Girls and boys are transformed into what ever their heart desires. Children are enthralled by balloon twisting: they  can request a special creation or awesome balloon animal. 
Mermaid Lara turns the party into a fairytale.  A favourite at girl's parties, this glimmering mermaid brings excitement and fun to children of all ages.   For amazing designs and a touch of magic, call Lara.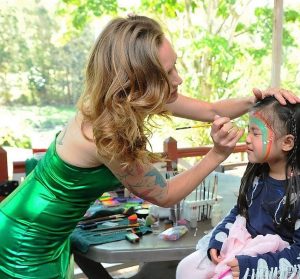 With a passion for face painting, Lara has painted thousands of children's faces.  From rainbows to spiderman, from tigers to Frozen princesses, from dolphins to unicorns, from snakes to mermaids: they can have whatever they want!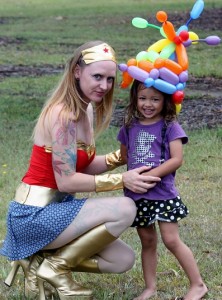 Want a super hero at your party? Make your party super fun with Lara's Wonder Woman.  A favourite for boys parties, Wonder Woman will use her super powers to turn the children into super heroes.
Princess parties are covered too, with Princess  Lara in her fairy tale gown.  Let everyone be crowned with a balloon tiara or glamorous design in face paint and glitter.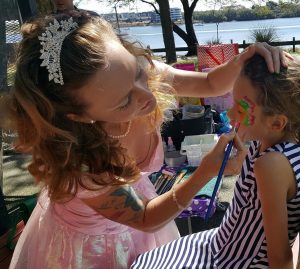 Extremely Face Painting uses the best quality hypo-allergenic face paints. Skin-safe paint and hygienic practices ensure there will be no-reaction on the faces of your child and their friends. Designs are easy to remove with soap and water.
Your Christmas party can have a Christmas Fairy entertaining the kids with themed face paint and Christmas balloon artistry.  Whatever the occasion, Extremely Face Painting can fit the theme.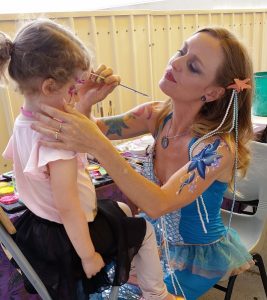 Got a fancy dress party?  Have your face transformed into something out of a horror film. Lara  does freaky face-painting/zombie make up for adults and children.
Want balloon twisting too?  Lara makes amazing balloon animals.  From dinosaurs to flowers, from mermaids to rainbow hats and pirate swords, each child can have a different balloon creation.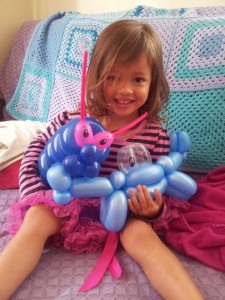 "Lady Lara…I'M IMPRESSED! You made my daughter's 7th birthday party a hit!"
"It's like a fairytale as soon as you arrive. Your designs the best I've ever seen."
"Lara is an amazing face painter, creating everything from gorgeous fairies to the incredible hulk!!."
"Thank you SOOOOOOOO MUCH!!!  His super hero party was a total success thanks to you, Wonder Woman".
                 See full reviews here.